The days of having to amass vast collections of DVDs and Blu-Ray discs are gone. Now, you can build an entire collection of movies through digital downloads and enjoy crystal clear picture quality while saving money off the cost of purchasing expensive discs. But just how many movies can you fit on your hard drive?
Movie Files Are Disk Drive Hogs
Digital movies are often huge files, and for those with limited disk space, memory space can become significantly depleted by movie files. This is especially true if you use torrents and other services to download multiple movie files at once. Many people find that their ability to download movies becomes quickly limited by disk space, leaving them faced with having to purchase external storage, expand their computer memory or stop adding new videos to their collection.
The Problem of Duplicate Movies
Many people are surprised to find duplicate movies on their hard drives when they begin to dig into their stored files to manage their memory use. Often, multiple versions of a single movie file may exist on a hard drive. You may find duplicate movies that are 100 percent identical or films that vary just in quality, resolution, and format. These duplicate movies eat up space on a hard drive and can needlessly compromise system performance.
How to Find Duplicate Movies
If you want to find duplicate movies and remove them from your hard drive, you could spend hours going through every video file on your computer one-by-one, but this is an impractical solution that most people simply can't find the time to do. The simpler option to help you find duplicate movies is to use Duplicate Video Search. This a robust software program that uses video fingerprinting technology to identify all duplicates of a particular film, so that you can quickly delete them.
Duplicate Video Search is the Best Way to Find Duplicate Movies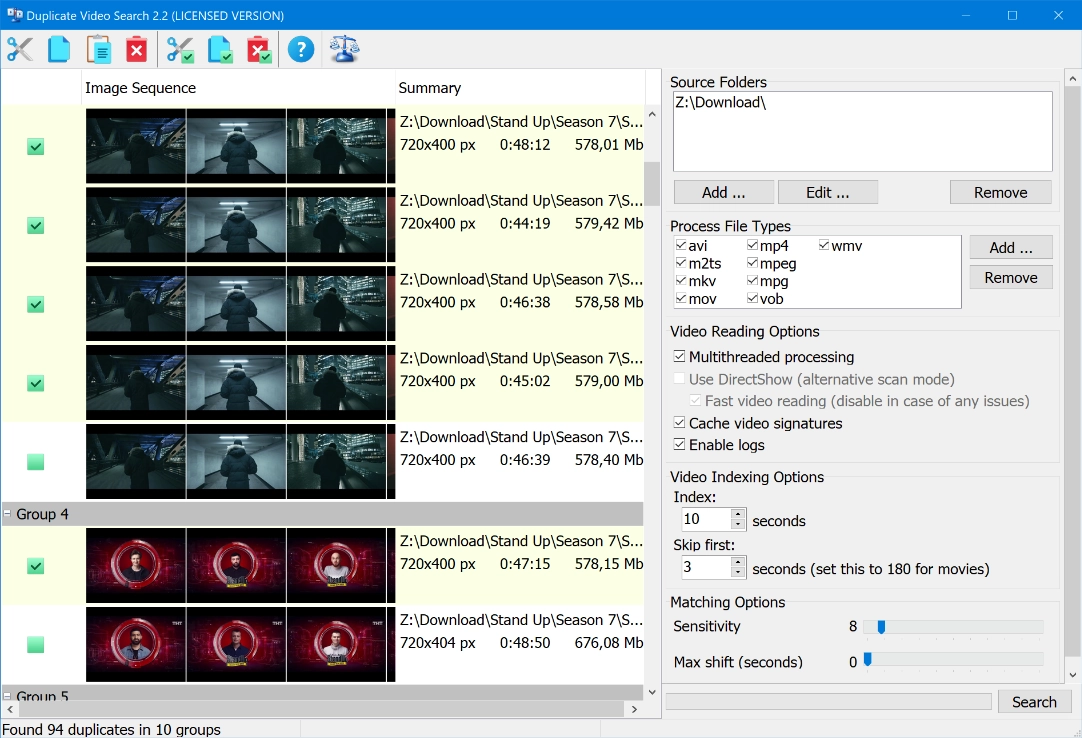 There are several reasons why Duplicate Video Search is the absolute best way to find duplicate movies:
Duplicate Video Search will find all identical video duplicates at lightning quick speeds.
With Duplicate Video Search, you can find duplicate movies that differ in terms of file extension, resolution, cropping, picture quality and more. This is a feature that other duplicate video products just don't offer and will save you time.
You can automate the deletion process by having Duplicate Video Search automatically save the best quality version of a movie while deleting all the others
A versatile file management system lets you easily cut, copy, paste and delete files right within the Duplicate Video Search program, so you don't have to flip between multiple windows.
Duplicate Video Search is incredibly easy to use. You'll see thumbnail clips and a video preview for all found files for quick review and deletion.
Duplicate Video Search supports all of the most popular video file types, including AVI, MKV, 3GP, MPG, SWF, MP4, WMV and FLV files.
If you want to keep your computer running at its best, you need to find duplicate movies and get rid of them. Duplicate Video Search is the simple way to get the job done, and it's available for a great low price.